Total Recall VR Connector for SkySoft-ATM
| | |
| --- | --- |
| | Total Recall VR Connector for SkySoft-ATM is a Windows™ service designed to integrate Total Recall VR recorders with the SkySoft-ATM's SkyRec solution for ATM recording, via the SkySoft-Audio API 01.00.00, where Total Recall VR recorders provide audio recording services to other components of the SkyRec solution. |
The service is suitable for scenarios where both the SkySoft-ATM's SkyRec solution for ATM recording and Total Recall VR recorders are in use and it is desirable to access audio recordings of telephone, 2-way radio and intercom conversations in time sync with radar data.
The subsequent diagram shows how the connector fits in the SkyRec solution architecture.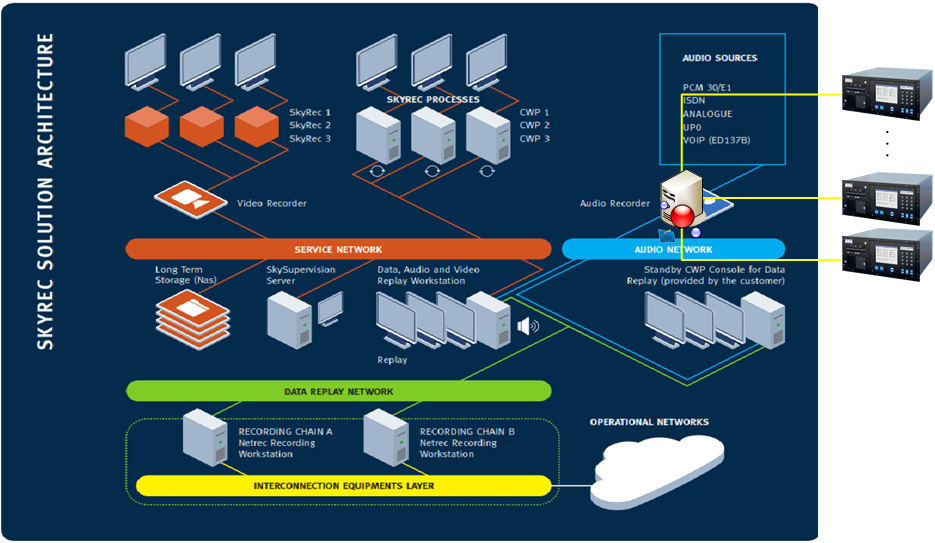 Runtime
Total Recall VR Connector for SkySoft-ATM is a Java™ application that is designed to run on a PC with the Windows™ 7, 8 or 10 or a server with Windows™ Server 2010 or 2012 operating system. The application depends on a number of mandatory and optional 3rd party applications, libraries and drivers to run. For full details please see the User Guide for the application.
Licensing
Total Recall VR Connector for SkySoft-ATM is a licensed application and requires a valid Activation License to run.
Each Activation License activates one application only, is node-locked and not transferable. That is, each Activation License activates one instance of the application on one PC and cannot be used to activate a different application on the same PC, or the same, or different, application on another PC. If you retire a PC with an Activation License for an application, and wish to use the same application on a new PC, then you need to purchase a new Activation License for the application for the new PC. For full details see the full text of the software license.
You can purchase an Activation License now - cost AU$1500.00. For volume licensing please contact us.
NOTE: See the User Guide for the application for compatibility with your Total Recall VR system before purchasing.
If you wish to trial the application for 10 days free of charge then:
Download and install the application on your PC.
Activate the trial when you run the application for the first time.
Note that the application will automatically stop working at the end of the free trial period. You can request one 10 day free trial period per PC.