Total Recall VR Remote Manager
Total Recall VR Remote Manager is a powerful Java based PC software application, included with unlimited licenses as part of your Total Recall VR system.

Compatible with Windows XP/Vista/7/8, Remote Manager allows you to securely configure and manage your Total Recall VR system, as well as to monitor and search calls, via your PC and existing TCP/IP network.
Total Recall VR Remote Manager used to be included with every system  until release 10.15.0. However, it is now obsolete.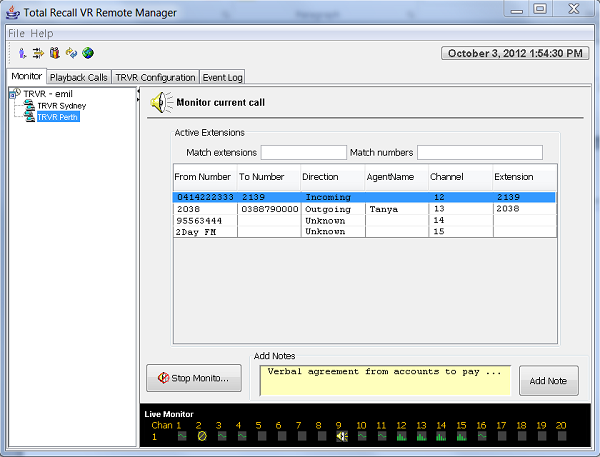 Remote Manager offers:
Secure Java platform.
Single click real-time call monitoring.
Advanced call searching capabilities.
Easy-to-use playback controls.
Full unit configuration options.
Configurable per-user access to all software functionality.
Configurable extension access per user.
Flexible call detail views.
Multi-level password security.
Save and replay calls in secure TRC file format.
Save and export to MP3 and WAV formats for easy file distribution.
Email calls in TRC, MP3 and WAV formats.
Call reporting.
Event log for system auditing.